Boarding:
Rough (all paddocks have run in sheds and ample grazing)
Barn (10×10 stalls, services up to full board)
(Priced accordingly, rough board starting at $150/ month, excluding hay)
---
Training/ Instruction/ Working Students:
We have experienced trainers for all levels of ability and all ages. Most importantly, we encourage a safe, respectful and fun relationship between rider and horse and instructor whether you are working on dressage, stadium jumping, or just on a hack.
Our riding instructor is Crystal Jagger. She has 30 years of experience helping riders of all ages and abilities have fun and be their best!
Check back as we explore launching an equine assisted therapy program for the disabled or disadvantaged.
---
 Riding:
English and Western.
---
Facilities: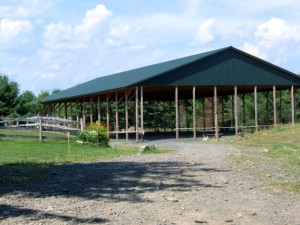 *We have a 150 acre, hilltop farm with rolling meadows, a vintage barn and sweeping views of the mighty Shawngunk Ridge (Mohonk Mt House!).
*Come use the covered riding ring (68'x110') with crushed rubber footing and arena lights. Work on your dressage, stadium jumping, Natural Horsemanship or general equitation. Open 24/7/365
*There's a cross country course with assorted jumps, a 3 stage bank jump, a water complex and plenty of topographical variety. Oh, and stunning views!
*Go on a nice scenic trail ride through some of the prettiest country around with a well-seasoned guide.
Horse Retirement: If you just want a great place for your hardworking sweetheart to rest and relax, it doesn't get more mellow than here. (Sorry, horses only, no husbands!)
---
Working Students:
Are you a local student looking to do some work? Let's talk. We're flexible and creative if you are hard working and have horse fever! RVCDS students can have the bus drop them off after school.
---
Summer Camp:
All ages. Week long , day sessions, all ages.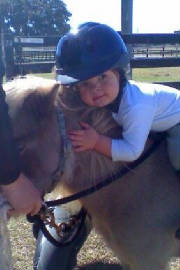 ---